The 2014 B.A.T. Mobile race will be held at the Florida Solar Energy Center,
March 8, 2014.
The competition is part of the Science Bowl for Middle School students held by the Space Coast Science Education Alliance (SCSEA).
Middle school students, 6-8th grade are invited to design, build and race electric cars. The small model cars — are built as team efforts guided by teachers.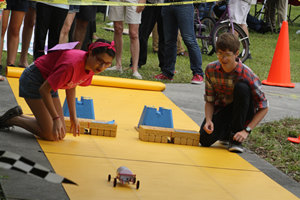 To view photos of the 2013 B.A.T. Mobile Challenge,
visit our online photo gallery.
Register... and Join In The Fun!
This competition is the second part of the SCSEA Science Bowl for Middle School Students. To register, please visit the Space Coast Science Education website.
Why get involved?
Transportation in the United States is expected to change radically in response to environmental constraints, fluctuating oil availability and economic factors. The transportation systems that emerge in the 21st century will be defined largely by the choices, skills and imagination of today's youth. As scientists and engineers, they will develop new vehicle and fuel technologies. As citizens, they will make decisions balancing mobility, environmental and economic needs.
The race tests the creative engineering skills of students as they gain hands-on experience in the automotive design process.