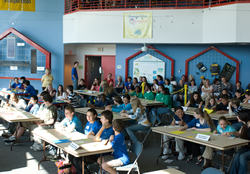 Florida's Regional Science Bowl for Middle School Students, for students in grades 6-8, is a fast-paced question and answer format–similar to Jeopardy–during which students answer questions about earth science, physical science, life science, math, energy, and general science.
The first, second and third place teams receive trophies and ribbons. The members and mentor from the top science bowl team receive an all expense paid trip to compete in the National Science Bowl in Washington D.C.
The Science Bowl is now hosted by the Space Coast Science Education Alliance (SCSEA). The Florida Solar Energy Center is a member of SCSEA and continues to support this event.

Visit the SCSEA website for complete details about the competition.