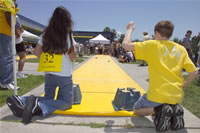 FSEC dedicates substantial effort to the development of educational resources for the teachers of our children. We do this out of the simple belief that clean and efficient energy resources are key to our future generations' ability to achieve a safe and sustainable environment.
In order educate teachers and students about renewable energy technologies, the Florida Solar Energy Center has developed several environment and energy curricula for use by teachers. The curricula units list and adhere to Florida's Sunshine State Education Standards. Also, the education department offers a number of educational tours that give students that ability to interact with staff researchers and see cutting edge science research. Finally, a number of science related education events are held each year. These events encourage students to use their knowledge and creativity to solve energy problems. Investigate the following sections to find out more about FSEC's K-12 educational offerings.



Curricula
FSEC has produced a number of curriculum units that focus on a wide variety of topics including conservation, alternative energy technologies, and understanding of the natural systems around us. Explore this section to view our curriculum units.

EnergyWhiz
FSEC hosts a number of events from the Junior Solar Sprint to the Space Coast Science Education Alliance Science Bowl for Middle School Students [Links to another web site.] in order to encourage the exploration of science and innovation.

Horizon Hydrogen Automotive Challenge
High School teams build, modify and race a 1:10 scale hydrogen fuel cell remote control car in a 6 hour competition. This endurance fuel cell race will test the cars performance as well as the strategy of the team throughout the curves of the race track, pit stops for refueling, and management of the car's energy resources.

Resources
In order to allow teachers and students access to renewable energy technologies, FSEC makes a variety of lab equipment and materials available for loan.