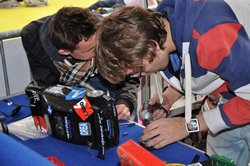 The 2016 Hydrogen Horizon Automotive Challenge will be held at the Florida Solar Energy Center, May 14, 2016.
The Hydrogen Horizon Automotive Challenge (H2AC) is a science and engineering project that gives high school students a hands-on design and performance-based experience that explores hybrid, hydrogen fuel cell technology. Competitiors, working in teams, pursue a common goal utilizing Science, Technology, Engineering, Art and Mathematics (STEAM) skills to address one of the pressing energy concerns facing our world--the need for clean, abundant fuel for transportation.
The H2AC six-hour race is meant to showcase the technical development the students have undergone throughout the project. The race will test the durability of the students' design as well as showcase the reality of fuel cell technology as a reliable, powerful alternative for automobiles.
Watch a timelapse video of the 6 hour race from May 2015, available in two versions:
50 minutes long
6 minutes long

How to Enter the Hydrogen Horizon Automotive Challenge
Entry into the H2AC competition is a competitive application process that is open to any High School. To register for this event click here. Applications are due by October 28th.