The 2016 Energy Innovations competition will be held at the Florida Solar Energy Center, May 14, 2016.
Energy Innovation is a real world design competition. It was developed to provide a full-scale photovoltaic design challenge for middle school and high school students to give them an opportunity to explore the growing technology of photovoltaics.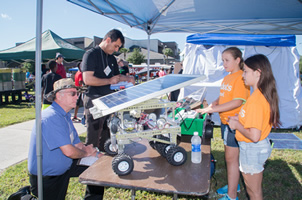 To view photos of the 2015 Energy Innovation competition, visit our online photo gallery.
How to Enter the Energy Innovations Competition
Entry into the Energy Innovations competition is a competitive application process that is open to any Middle or High school in the state of Florida. Submit an application here. Applications are due by November 20, 2015.

Please review the Energy Innovations rules before
beginning to work on your project.

Energy Innovation Awards
The awards will be as follows:
1st Place Design (separate awards for middle & high school)
2nd Place Design
3rd Place Design
WOW! Award, for the most creative/artistic entry (combined middle & high school)
Archives
Photo Galleries