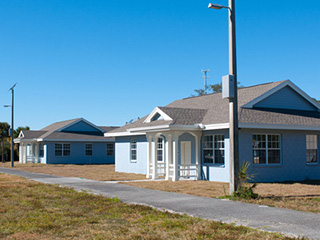 The Flexible Residential Test Facility (FRTF) offers two side-by-side 32x48 (1536 square foot) homes for conducting residential scale experiments of one envelope or equipment technology versus another.
The facility was constructed representative of older Florida homes with concrete block walls without insulation, single-pane windows and only R-19 ceiling insulation. Such configuration is ideal for any retrofit technology performance.
Features:
Ability to locate an air handler inside the conditioned space, in the attic, or in the garage.
Window area evenly distributed on four sides with two-foot overhangs allowing window products to be tested without bias to orientation.
156 ground and slab measurements for analyzing heat transfer from and to the earth.
Provides automatic sensible and latent loads to represent occupancy.
Detailed equipment measurements, and roof and wall temperature measurements.
Dosed with CO2 to monitor infiltration continuously.