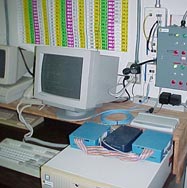 The control room of the laboratory. Photo: Richard Raustad
FSEC's on-site environmental facilities are capable of testing air-conditioners and heat pumps with cooling/heating capacities up to 3.5 tons. The facility is made up of an indoor chamber, an outdoor chamber, and a computerized control room. The environmental chamber's indoor and outdoor conditions are maintained automatically with a laboratory grade data acquisition and control system. Full automation allows complete flexibility for parametric testing of the air conditioner according to the prescribed test procedure for a particular test.
The indoor environment contains the indoor air handler section of the air-conditioner. Proportional and integral control is used to maintain indoor chamber temperature and humidity using multiple 3 kW heaters and an electronic humidifier. On/Off control of stand-by heaters provide trim capability for high sensible loads. A standby humidifier or dehumidifier may be used for extreme high and low moisture loads, respectively. A booster fan is installed to overcome external static pressures up to 2" w.c.
This chamber controls typical outdoor temperatures.
Photo: Richard Raustad
The outdoor environment houses the condenser section of the air conditioner and is comprised of a variable frequency compressor and condenser fan motor. The outdoor chamber temperature is controlled using a variable speed chilled-water system supplied by a 9-ton chilled water unit. Two refrigeration systems allow for winter testing of heat pumps down to 40 F.
The control room houses a data acquisition and control system and is responsible for monitoring instrumentation output, controlling psychrometric chamber temperature and humidity conditions, and controlling the air conditioners compressor, indoor fan, and outdoor fan speeds.
The test chamber/apparatus is shown schematically in the figure below: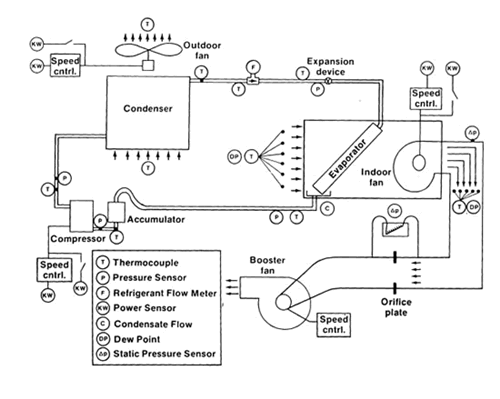 Schematic of psychrometric chambers/air conditioner testing apparatus at FSEC.