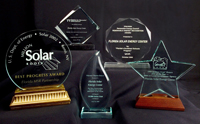 The Florida Solar Energy Center has been recognized as a leader in alternative energy research. The following is a few of the outstanding awards that have been bestowed upon FSEC.

Energy Star for Homes Outstanding Achievement Award: 2003, 2004 & 2005
The U.S. Environmental Protection Agency presents this award to builders, home energy raters, and utilities for their outstanding contributions to the ENERGY STAR for Homes Program. Through a voluntary partnership with ENERGY STAR, the award winners build, verify, and promote homes that use a combined 30% less energy for heating, cooling, and water heating than the average new home. As a result of reduced energy use, ENERGY STAR homeowners can save on average $200 or more dollars a year on their utility bills.

Million Solar Roofs, Best Progress Award, Atlanta Region, U.S. Dept of Energy: 2002
The Million Solar Roof's "National Best Progress Award" and their Atlanta Region's "Best Progress Award" were presented to the Florida Million Solar Roofs Partnership, which includes the Department of Community Affairs (Florida Energy Office), the Florida Municipal Electric Association, the Florida solar industry and FSEC.

Certificate of Appreciation, Office of the Secretary of Defense, Washington Headquarters Services: 2/2001
For support of the Department of Defense energy mission.

Research Partnership Award: 2001
Office of Energy Efficiency and Renewable Energy, Office of Power Technologies, presented this award to FSEC for the Thin Film Photovoltaic Partnership Program.

State of Florida Resolution to recognize and commend FSEC for 25 years of critically important research and successful operation in the Florida sunshine, helping harness alternative energy sources for Floridians and citizens throughout the world

: 2000


The Resolution from the Governor and Cabinet acknowledged FSEC's role in building code changes, strategies and products that are saving Florida homeowners an estimated $50 million in energy costs every year. It also noted the Center's work with the state's solar energy companies, installers and technicians that has created the nation's largest and strongest solar industry.

Habitat for Humanit, Partnership & Continued support: 2000
The Florida Solar Energy Center has supported Habitat for Humanity for over 10 years.

1999 Energy Star Home Ally of the Year – State or Local Government Agency
Each year ENERGY STAR presents Partner of the Year awards to outstanding partners who have helped to establish a significant presence for ENERGY STAR qualified new homes in one or more regional markets. These partners have typically demonstrated a commitment to the construction of ENERGY STAR qualified new homes, contributed to the growth of ENERGY STAR in their market(s), and effectively included ENERGY STAR in their marketing and sales efforts. These organizations have recognized that energy-efficient homes are good for business and the environment. We proudly recognize their efforts as ENERGY STAR partners.

Award for Excellence in Architecture: 1996
This award was recieved for design of the Florida Solar Energy Center from The Florida Association of the American Institute of Architects