North Carolina Performance Enhancement Relocatable Classrooms
Chapel Hill, North Carolina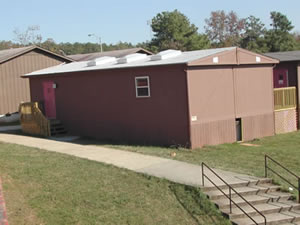 NC PERC Unit
The NC Performance Enhanced Relocatable Classroom is located at Chapel Hill High School. There are 20 schools in the district and a total population of over 10,600 students. The school district currently has 42 relocatable classrooms and 8 were added for the school year 2003-2004. The North Carolina Solar Center has partnered with FSEC to help monitor the performance of the NC PERC experiment. The typical classroom used in this school district is a wood framed structure with gypsum ceiling; unlike the FL and NY typical classrooms, which used t-grid ceilings (for more detail see FL PERC and NY PERC). Over a full year of data collection, the modified classroom achieved an overall energy savings of 46%. Total electricity use averaged 64.9 kWh/day in the control portable against 32.3 kWh in the improved one. The magnitude of the daily energy end uses is shown in the pie graph below, illustrating that space heating has made up the lion's share of energy use from November through March.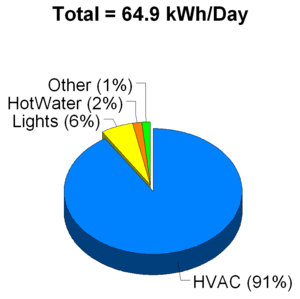 Measured average electricity end-uses in control portable
from November 1, 2003 through March 8, 2004
The timing of the savings are shown in the average daily load profiles shown in the plot below. FSEC is continuing to monitor this project and evaluate the modifications that were made as well as the performance over the entire year.
Daylighting from overhead skylights
inside the experimental classroom
| | | |
| --- | --- | --- |
| | FSEC monitored energy performance in both classrooms. All data was downloaded daily to FSEC via modem. Data summaries can be accessed online at the InfoMonitors web site. Detailed data queries and graphs can also be generated through FSEC's WebGet database. | |
NASEO Side-by-Side Study of NC PERC
Specifications of Standard and Energy-Efficient Construction

Characteristic
Standard Relocatable
PERC
Floor Insulation
R-15 Formaldehyde Free
Wall Insulation
R-11
R- 15 Formaldehyde Free insulation w/ R-7 polyisocyanurate sheathing, Tyvek house wrap Image
Exterior Door
Steel/steel KD (knock down) with 10"x10" view panel R= 1.626
HM pressed steel KD (knock down) CECO with polystyrene core 10"x10" view panel R= 14.8
Ceiling Insulation
R- 19 batt insulation
Image

R-38 blown Image
Note of Interest (10.5 inches)

Roof
Dark colored asphalt shingle Image
Light colored asphalt shingle Image with Techshield radiant barrier by Louisiana Pacific sub deck
Image
Windows
Single pane, aluminum frame(U= 1.10, SHGC= 0.86, Vt=0.90)
Low-E Argon gas filled, vinyl framed by Reynolds 200 Series (U=0.35, SHGC - 0.38, Vt=0.58) Image
Lights
16 fixtures @ (2) T12 34W lamps + Bathroom (1) 60 incandescent bulb + (2) outdoor lights @ 60W = 1,208 Total Installed Wattage Image
10 fixtures @ (3) T8 32 W lamps + Bathroom (1) 13W CFL + (2) outdoor lights @ 13W CFL = 790W Total Installed Wattage Image
Light Controls
Manual controlled - one switch controls one half of the fixtures in the classroom and the other switch located on opposite wall controls other half of fixtures
Occupancy sensor initially activates Image
lights, photosensor maintains minimum 50fc light level with continuously
dimming ballasts Image
Outdoor Light
60 Watt incandescent Manually controlled Image
(2) 13 Watt CFL, photosensor controlled
Skylights
None
Interior Floor Finish
Roll carpeting
Non-permeable backing, Interface Cubic carpet tile, low VOC glue
Interior Wall Finish
Vinyl covered gypsum Image
Harmony High Performance Low Odor Latex Paint
Heating System
10 kW electric resistance heat strip 34,130 BTU
Bard SH Series Heat Pump with ERV, HSPF 7.5, 5 kW heat strip (see Lessons Learned)
Cooling System
Bard Central Air Conditioning 3.5 ton 43000 BTU cool
SEER 10
3 ton Bard SH Series Heat Pump with ERV
SEER 12
Ventilation System
Fixed CFM during occupancy

CO2 control for ventilation with 3-step fan speed with energy recovery ventilator
Image
(click here for more information regarding this ventilation control mechanism)

HVAC controls
Manual t-stat
Bard CS2000 Energy Monitor Image
Bathroom Exhaust Fan
Broan, 4 sonne, 100 CFM w/ 60W incandescent light bulb Measured dB - 68.0 (see Sones definitions)
Broan Ultrasilent model #S80LU, 0.3 sonne, 50CFM with 13W cflMeasured dB level - 53.4 (see Decibel comparisons)
Duct Leakage*
CFM25out = 197
CFM25out = 182
Building Leakage*
ACH50 = 9.08
ACH50 = 4.83
Building Leakage (nat)*
ACH50 = 0.47
ACH50 = 0.25
Sound level of HVAC equipment (fan only)
46dB
44dB
Sound level of HVAC equipment (ac compressor on)
51dB
49dB
*Leakage Testing performed – October 22, 2003
Characteristic
Comment
Light Operation
Adjustments were made to LCD lighting control module. The dimming response dial sets the ratio of dimming to the amount of daylight contributing to the illumination of the zone. It was originally set to "3" and was changed to "2". The data shows savings were significant without compromising indoor light levels.
Skylight well
Gypsum Wall Board ceilings are typical for this relocatable classroom in this school district. Therefore, loose fill insulation is blown on top of the ceiling. The trusses are framed and the gypsum sheet rock is glued and fastened to the underside of the roof joists. Then the insulation is sprayed, the roof/ceiling is then lifted into place. The skylight wells were framed prior to the insulation process. The skylight wells flared to increase the natural light distribution in the classroom. This also made the space look large. This construction was specified in the NC PERC due to the skylight well difficulty experienced in the NY PERC. The data was significantly improved.

CS2000

Adjustments were made to the CS2000 in December. This is largely due to the fact the system was "expecting" occupancy to occur and activating itself regardless of occupancy. This is the intended nature of the CS2000 but it is supposed to learn a 7-day calendar and it has not shown success in this. Therefore, a technician made some modifications such as (need explanation of wiring modification)

Heating System

There was an initial operational problem with the heat strip, and it was due to an improper wiring schematic. The wiring change was made, and the unit has performed as it was intended. A modification was fmade in the field to the heating element in the HVAC equipment. The heat strip for emergency heat operation was reduced from 10 kW to 5 kW in the experimental unit.
Skylight Design
Daylighting performance in the PERC unit was simulated to determine the size, layout and quantity of skylights that would optimize light levels in the classrooms. A program developed by HMG, SkyCalc was utilized using various supplemental electrical lighting scenarios. The simulated energy savings of using 4, 6 and 8 skylights in NC climate with continuously dimming electrical lighting operation are shown below (click to enlarge):
| | | | | |
| --- | --- | --- | --- | --- |
| | | | | |
| 4 skylights | | 6 skylights | | 8 skylights |
Below is the construction document for the NC PERC and detail that illustrates the skylight well strategy (click to enlarge).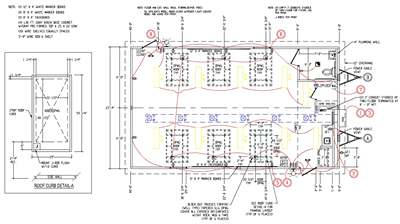 To see construction status, future data collection, and specifications for other PERCs, please visit the links below.
Contacts
FSEC would like to especially thank the industry partners who have donated time and equipment in this worthwhile project.
News Releases, Publications and Presentations
Class is a study in Energy Use – News Observer January 26, 2004 (Word 143KB)
New Mobile Classroom Earns High Marks for Energy Savings - NCSC News Release January 14, 2004 (Word 21KB)
Improving Performance in portable Classrooms - 2002 SEP/RA National Conference July 30, 2002 (PPT 15,456KB )
Research & Case Studies of Energy Efficiency in Schools – AIA SC Think Green Workshop April 4, 2003 (PPT 12,475KB )
| | |
| --- | --- |
| Project Lead: | |
__________________
Note of Interest: Ceiling Insulation
Gypsum Wall Board ceilings are typical for this relocatable classrooms in this school district. Therefore, loose fill insulation is blown on top of the ceiling. The trusses are framed and the gypsum sheet rock is glued and fastened to the underside of the roof joists Then the insulation is sprayed, the roof/ceiling is then lifted into place. The skylight wells were framed prior to the insulation process, Gypsum ceilings are generally more air tight than t-grid ceilings.
Ventilation Method for NC PERC
Wall mounted CO2 Controller model # 8002 w/ display controls, modifies the ventilation fan speed to operate under these conditions (during occupancy):
high speed when CO2 levels in the classroom at 1200 ppm or more
off when CO2 levels in the classroom are at 550 ppm or less
medium speed when CO2 levels are between 700ppm –1200ppm
Bard CS2000 Energy Management controller detects occupancy and allows the heating/cooling/ventilation systems to operate when the classroom is occupied, and also has pre-cool/pre-heat scheduling