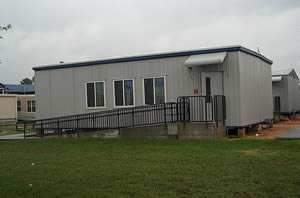 FL PERC - September 2003
FL Control Classroom - September 2003
Florida Performance Enhancement Relocatable Classrooms
Orlando, Florida
According to previous research conducted by FSEC, it is estimated that Florida has approximately 25,000 relocatable classrooms to date (FSEC-CR-951-97). At latest count, Orange County Public Schools possesses 3,702 relocatable classrooms in their district of 166 schools. The design and specification process for the FL PERC experiment was similar to that New York although some further modifications were made based on the data collected and information learned from the previous experience. Specifications were further modified for climatical differences, which prompted equipment and insulation changes. The Orange County Public School's Planning and Standards Committee worked closely with FSEC in implementing changes to the typical relocatable classroom that they use in this district. Special attention was made to the lighting layout to ensure optimal distribution. Also, all relocatable classrooms in Orange County are Type IV construction. Type IV construction means all structural members are of non-combustible materials. A building with a metal structure created concerns for ensuring that attention was given to the envelope specifications given the thermal bridging inevitable with steel studs. Another improvement that resulted from the NY project was a "factory friendly" integration of the skylights into the modular construction process. This is explained in the "Lesson Learned" section under the characteristic titled Skylight well.
The FL PERC is located at Shingle Creek Elementary School in Orlando, FL where the entire campus is composed of relocatable classrooms. The FL PERC was built by Resun Leasing and South East Modular, in Orlando and Leesburg, FL respectively. Dimensionally, it is a 24'-0" x 36'-0" classroom with a bathroom totaling 864 sq. feet (click here for a view of floor plan 1 and here for a view of floor plan 2). The control classroom was intended to be built by the same manufacturer (South East Modular) but due to scheduling conflicts, it was built by United Modular. However, the base construction is nearly identical from each manufacturer. Both classrooms are occupied and are logging data daily. This testing started October 2003 with data collection beginning in November. The PERC is located sixteen feet south of the control unit (see classroom layout with respect to each other). Measured data shows an overall savings of about 81% were achieved over a year of data collection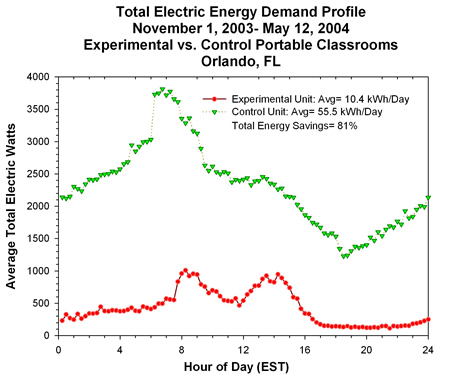 | | | |
| --- | --- | --- |
| | FSEC monitored energy performance in both classrooms. All data was downloaded daily to FSEC via modem. Data summaries can be accessed online at the InfoMonitors web site. Detailed data queries and graphs can also be generated through FSEC's WebGet database. | |
Construction efficiency related differences between the two FL classrooms are listed in the table below. The results of testing are described below.
NASEO Side-by-Side Study of FL PERC
Specifications of Standard and Energy Efficient Construction

Characteristic
Standard Relocatable
PERC
Floor Insulation
R-14 unfaced
Image

R-14 unfaced Formaldehyde Free

Wall Insulation
R-11 faced
Image
R-14 unfaced Formaldehyde Free insulation w/ 1/2" Dens Glass with ¾" polyisocyanurate foam insulation board
Exterior Door
HM pressed steel KD (knock down) CECO with solid core R=2.44
HM pressed steel KD (knock down) CECO with polystyrene core R= 14.8
Ceiling Insulation
R-19 faced
R-30 Icynene spray foam insulation @ roof deck, Video clip

Roof
Standard dark roof; 0.45 mm black EPDM over ½" Densdeck
Reflective roof; 0.45 mm white EPDM over 5/8" Densdeck http://www.fibertite.com
Windows
1/8" non-tempered bronze tint glass(U=1.03, SHGC=0.84, Vt=0.77)
Low-E Argon gas filled, vinyl framed by Ellison with Solarban 60 glass(U= 0.28, SHGC - 0.39, Vt=0.71)
Lights
1,420 Total Installed Wattage
984 Total Installed Wattage
Outdoor Light
60 Watt incandescent Manually controlled
15 Watt CPL, photosensor controlled
Skylights
None
(7) 21" dia. Solatube Skylights
Interior Floor Finish
26 oz. rolled carpet
Non-permeable backing, Interface 'Sabi' carpet tile, low VOC glue
Heating System
Bard Electric Resistance Heat 10kW heat strip, 35900 BTU heat
Bard QTec Heat Pump, HSPF 7.5
Cooling System
Bard Central Air Conditioning 3.5 ton with ERV,43000 BTU cool
SEER 10
Bard Qtec Central Heat Pump with ERV
SEER 12
Ventilation System
Fixed CFM during occupancy
CO2 control for ventilation with 3-step fan speed and energy recovery ventilator (click here for more information regarding this ventilation control mechanism)
Bathroom Exhaust Fan
Broan, 4 sonne, 100 CFM
Panasonic Whisperlite Fan, 1.3 sonne, 190 CFM
Duct Leakage*
CFM25total Return = 318
CFM25total Supply = 485
CFM25out Return = 253
CFM25out Supply = 426
CFM25total Return = 325
CFM25total Supply = 420
CFM25out Return = 216
CFM25out Supply = 274
Image
Building Leakage*
ACH50 = 2673
ACH50 = 4850 (ACT removed)

ACH50 = 1107
ACH50 = 1139 (ACT removed)
Smoke test -
Infiltration air handler unit on - 2.60 ach
Infiltration air handler unit off - 0.27 ach
Infiltration air handler unit on - 0.66 ach Image
Infiltration air handler unit off - 0.05 ach Image
*Leakage Testing performed – December 9, 2003
Lessons Learned - Improvements Proposed for Next Construction

Characteristic
Comment
Light Operation
Learning from the NY PERC, we simplified the lighting controls when we specified the Solatube system. The Solatube also had a damper system but they were controlled with a simple manual timer, in the event that the teachers needed the skylights to "shut off". When a dimmable ballast is specified with a a 3 tube fixture, Advance transformers make a Mark VII that is compatible with continuous dimmable ballast. Sensor switch also makes a photosensor, model #CM-ALC.
Skylight well
Learning from the NY PERC, The FL PERC used the Solatube which included a tube that is standard with the skylight well, thus requiring no extra fabrication for a skylight well area. The Solatube is not insulated and batte insulation was wrapped around the tubes, post construction

Insulation

Use R14 insulation in lieu of R15 because R15 is only
manufactured in 14" widths & 96" lengths, as apposed to R14, which come in rolls and 16" widths (which is more suitable for 16" on center construction, i.e wall cavity).
Skylight louvers open, electric lights on

Skylight louvers open, electric lights off

Control classroom, no skylights

Close up view of the skylight
well parabolic diffuser
Optimizing the skylight to floor ratio was simulated to determine the size, layout and quantity of skylights that would optimize light levels in the classrooms. A program developed by Heschong Mahone Group, SkyCalc was utilized using various supplemental electrical lighting scenarios. The simulated results of using 5 skylights in NY climate with 3 step dimming lighting operation are shown below:
| | | | | |
| --- | --- | --- | --- | --- |
| | | | | |
| 4 skylights | | 6 skylights | | 8 skylights |
As mentioned in Lessons Learned, the New York PERC lighting controls were never commissioned to operate automatically therefore savings would depend on the operators. The control classroom has the option of only using half the lights and data shows that the teachers in the control classrooms turned lights off when the classrooms were unoccupied and teachers in the PERC did not. It was resolved that commissioning of lighting controls would be a priority in future projects.

For construction status, future data collection, and specifications for other PERC's, please visit the links below.
Contacts
FSEC would like to especially thank the industry partners who have donated time and equipment in this worthwhile project.
| | |
| --- | --- |
| Project Lead: | |
_____________________
Note of Interest: Roof
Icynene spray foam insulation is a spray-in-place soft foam that was applied to the roof deck of the FL PERC for purpose of lowering air infiltration. The insulation is made of polyicynene foam, a water-based organic product. This system provides an air and moisture barrier, wind proofs and seals the ceiling cavity and fills all crevices against air movement. It also reduces airborne sound.
Ventilation Method for FL PERC
Wall mounted CO2 Controller model # 8002 w/ display controls, modifies the ventilation fan speed to operate under these conditions (during occupancy):
high speed when CO2 levels in the classroom at 1200 ppm or more
off when CO2 levels in the classroom are at 550 ppm or less
medium speed when CO2 levels are between 700ppm –1200ppm
Bard CS2000 Energy Management controller detects occupancy and allows the heating/cooling/ventilation systems to operate when the classroom is occupied, and also has pre-cool/pre-heat scheduling