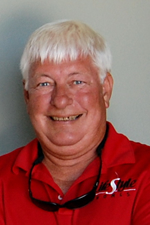 Larry Hufford
Founding Partner
LifeStyle Homes

Larry Hufford co-founded Lifestyle Homes with the late John Luhn in 1984. Upon their retirement, the company was led by John's son, Jake Luhn, whose leadership not only helped LifeStyle survive the real-estate crash, but allowed the company to prosper in the years following. In 2013, Jake left LifeStyle to pursue his dream of coaching college basketball. Today, John's youngest son, Jordan Luhn, as well as Larry's youngest daughter, Karen Hufford, carry on the family business. Lifestyle Homes has advanced into the building of cost effective net zero energy homes. Lifestyle Homes is the world leader of a number of net zero energy homes completed.*
Larry Hufford was born and raised in Cornfield Ohio before the last Indians who battled at Little Big Horn passed on. Miami University of Ohio was an established university when Florida belonged to Spain. Larry earned his B.S. there in 1973.
Larry and his bride of 40 years, Kathy, have two daughters both with Bachelor degrees from UCF. Their youngest, Karen has a master's degree from NYU. Heather and her husband Brett have two energetic grandsons.
In his off time, which is most of the time, Larry enjoys fast horses and pretty women and vice versa, old cars and offshore sport-fishing on his 40 foot Egg Harbor the "LifeStyle Perks."
*POSSIBLY!!!