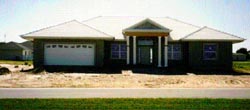 Progress Report: February 1998
Control Home Complete - PVRES Home Gets Roof
The project being termed The Model "Million Roofs" Home
A lot has happened since the last update, so we'll hit the high points. Both homes have been structurally completed. The Control home is finished and ready for occupancy as shown on the right. The basic features of the Control Home as constructed are:
Gray/brown asphalt shingle roof
R-30 ceiling insulation
R-4 wall insulation over CBS
Single glazing with aluminum frames
Standard appliances
Standard incandescent lighting (30 recessed can lights)
R-6 ducts located in attic
4-ton Trane heat pump (SEER=10; HSPF= 7 Btu/W)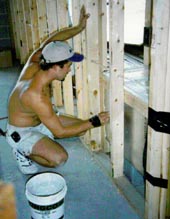 Progress has been good at the PVRES home as well. The advanced spectrally-selective windows have been delivered and installed. The interior duct system has been installed, tested and sealed. The white tile roof has been delivered and installed. The SERP refrigerator has been delivered. The high performance heat pump has been ordered and the insulated wall system has been covered by wire lathe and stucco. The 4 kW of PV modules have been ordered from Siemens and mounting hardware obtained. The innovative solar water heating system with propane back-up has been obtained and installed. And not surprisingly, the home has already been sold. Happily, the new owners will not take occupancy until next autumn. Thus, we will be able to monitor the home throughout the summer in an unoccupied condition. With any luck, we will be able to monitor the control home for at least a month unoccupied after it is completed as well.
There is a good possibility that the City of Lakeland may become a player in President Clinton's "Million Roofs" initiative. For now, the project is being called The Model "Million Roof" Home. Check out the "Million Roofs" site for details on the scope, goals and key features of the President's plan.