Progress Report: August 1997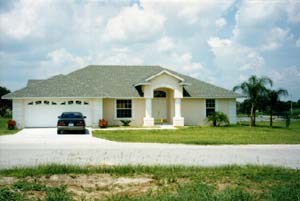 We reached an agreement with Rick Strawbridge Construction to participate in the project in June. Rick is a prominent Lakeland residential builder.
Rick will be building two homes with identical floor plans in the Woodwind Hills area of South Lakeland. The 2,425 square foot floor plan and elevations are available. One home will feature the efficiency improvements while the other will be of standard construction. A similar house plan built by Strawbridge across the street from the current lot is shown in the photo on the right. We reached agreement on the particulars of the construction (insulation and efficiency levels) in July.
In August, construction began with lot grading and construction of the footers for the slab-on-grade construction. The lot for the improved building is shown on left. During the month we obtained the cooperation of the Celotex Corporation to provide exterior R-10 insulation (Tuff-R "C") for the masonry construction in the project. Similarly we are working with the PPG Corporation to provide their most advanced window glazing product (Sungate 1000 with Argon fill). The window has an overall shading coefficient of only 0.44 and a U-value of 0.27 BTU / ft2 /oF.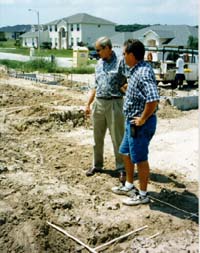 The photo on the right shows a site visit on August 20th during which the site plumbing was being installed. Modifications were necessary to accommodate the solar water heater which will include a two tank system with solar primary and propane back-up. Also, pictured is the project foreman, Gary Morrison, and Dick Edwards, who was visiting from Celotex to work out the details for installation of the exterior insulation over masonry construction. The exterior insulation scheme is important to the project since we plan to pre-cool the PV-equipped building during the daytime period when the insolation availability is high and are aiming to take advantage of the insulation encapsulated masonry to alter the building's cooling load profile.
Current work is centering on choice of the heating and cooling equipment and the associated system sizing. We are also working to purchase a super-efficient Kenmore refrigerator for the project.
We'll have more updates as work progresses in the coming weeks. So please stay tuned!