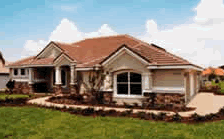 Fallman Construction built the first Florida certified green home in Lake County in 2001.
Green standards go beyond just energy efficiency and attempt to rate a building effort with regard to the total environmental stewardship of a project. Most green standards try to include the process of construction (are materials wasted?), the impact on the land (is soil being eroded?), water use, health and durability, and location (will someone have to use significant energy to get to where they need to go from here?). In this regard green standards are significantly more encompassing than just energy. An energy-efficient building may not be a green building, but a true green building will be energy-efficient.
FSEC has been helping create guidelines, programs and standards for building better buildings since the inception of a buildings program in 1980. As an early member of the United States Green Building Council (USGBC), FSEC staff served on the committee that developed LEED 1.0, the first U.S., nationally available, commercial green building standard.
FSEC staff helped found the Florida Green Building Coalition (FGBC), a non-profit Florida Corporation dedicated to developing green standards for environmental and economic benefit of Floridians. After researching the various local green building standards at the time, FSEC headed the effort to create a green home building program for Florida. Released in 2001, the FGBC green home standard is now being specified for entire developments, and the City of Gainesville has provided incentives for building to the standard.
FGBC broke new ground when FSEC staff served as primary author, editor and administrator for the Florida Green Development Standard. The green development standard requires excellent environmental stewardship for the horizontal planning of the land. It incorporates multiple environmental, ecological and sustainability features and has a considerably reduced environmental impact than a development built to minimal state and local regulations.
Under an energy/environmental integration contract from the Florida Energy Office and the Department of Energy's State Energy Program, FSEC led development of a green standard for Florida local governments. The standard goes beyond what one thinks about with buildings, into green practices that a local government can achieve through in-house policies, legislated control and incentives, and education. The standard is updated and administered by the Florida Green Building Coalition, Inc. who by the end of 2012 had certified 44 local Florida governments.