If you are interested in participating in this study
and your home meets the criteria listed below, contact us
at (Phone) 321-638-1723, (Fax) 321-638-1439,
or email at
sliguori@fsec.ucf.edu
.
The Florida Solar Energy Center (FSEC), a research institute of the University of Central Florida, is looking for homes to participate in our energy retrofit study.

This study is funded through the U.S. Department of Energy's Building America program and Florida Power and Light. The project will install energy saving retrofits in single family homes and then measure their energy savings and peak load reduction with goals of informing consumers and expanding retrofit programs throughout Florida and the U.S.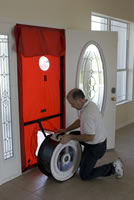 Researcher conducting a blower door test.
Requirements to Participate:
FPL customer in a single family detached residence
a single electrical breaker panel
a single central air conditioner (no multiple systems)
electric space and water heating
internet service with home Wi-Fi network
owner occupied year round
lived in the home for at least one year.
What we want to do:
Provide energy saving retrofits
Analyze pre and post-retrofit utility bills (1 to 2 years)
Measure energy use before and after installing the retrofits
Transfer energy and temperature data via internet connection
Measure building and air duct airtightness
Examine insulation levels and air leakage pathways
Measure building envelope (walls, floors, etc.) surface areas
Determine the efficiency of space heating, cooling, and domestic hot water equipment
The FSEC research team will begin by conducting a home energy audit and installing energy and temperature monitors. Testing will examine airtightness, air pressure fields, air conditioner performance, duct leakage and air leakage pathways. The research team will be measuring energy use and indoor temperature before and after the retrofits are installed for a period of at least 12 to 18 months. Measured data will be transferred via the home's internet connection.
FSEC plans to include 30 homes in the Brevard County area and 30 more in the Dade/Broward County area. Participants will receive up to $1,500 in energy-saving retrofit measures such as water heater blanket and pipe insulation, low flow showerheads, CFL bulbs and home and duct air sealing. An eligible subset of homes will receive a more extensive retrofit package in the $10,000 to $15,000 range contingent on homeowner financing of an A/C system upgrade to a 16 SEER heat pump.

How do you participate?
Complete the Online Interest form and you will be contacted. Selected participants will receive a homeowner agreement. Once the agreement has been signed, an energy audit will be scheduled.
If you have questions about this study, would like to submit your homeowner agreement or not sure if your home fits the criteria, you may contact us by (Phone) 321-638-1723, (Fax) 321-638-1439, or email at sliguori@fsec.ucf.edu.