2005.11.21
2005 Florida Energy Achievement Award
In honor of its 30th anniversary in 2005, The Florida Solar Energy Center created the "Florida Energy Achievement Awards" to recognize a company, organization or individual that has made a significant achievement in the efficient utilization of energy, energy conservation, energy education or renewable energy in the state of Florida.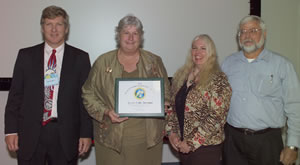 Jim Fenton, left, Director of the Florida Solar Energy Center, presents the 2005 Florida Energy Achievement Award to Sarasota County Government members. Accepting the award are, left to right, Jodi John, Nina Powers, and
Gary Patton.
Photo: Nicholas Waters
This year's winner is Sarasota County Government. Sarasota's wide variety of energy and environmental programs demonstrated their commitment to sustainable principles and practices as part of community building that integrates economic prosperity, social equity and environmental quality. The FSEC awards committee chose Sarasota for its many programs that reduce organizational energy use, conserve water, and provide support to other agencies and businesses in their community that are interested in energy conservation.
This award will be presented each year to recognize statewide leadership in sustainable energy savings. The selected winner will have achieved significant results in energy efficiency, conservation, energy education or the use of renewable energy in their facility or program.
Examples include reducing energy use, water conservation, renewable energy generation, use of alternative fuel vehicles, renovations or retrofits with energy-saving measures, reducing pollution, innovative energy saving performance contracts or utility energy services contracts, having a major impact on public education regarding energy issues or playing a prominent role in educating or disseminating information related to energy conservation measures or issues, helping generate awareness on energy-related issues, or other programs that have helped Florida use its energy and environmental resources more effectively.
Information on the 2006 application deadline will be posted on our home page in mid-2006. One winner will be selected annually and will receive an award as well as permanent designation in the energy center's complex in Cocoa, Florida.