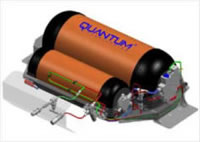 Three layer carbon fiber-reinforced 5,000 and 10,000-psi compressed hydrogen gas tanks. (Photo: Quantum Technologies Worldwide, Inc.)
The use of compressed gas tanks is a mature technology that has well-established engineering principles and design methodologies. Today's state-of-the-art for gaseous storage includes 5,000- and 10,000-psi compressed gas tanks for on-board hydrogen storage. Research issues with compressed hydrogen gas tanks revolve around high pressure, weight, volume, conformability and cost. High-pressure gaseous hydrogen storage requires material and design improvements in order to ensure tank integrity and cost reductions.
The cost of high-pressure compressed gas tanks is essentially dictated by the cost of the carbon fibers used for lightweight structural reinforcement. Efforts are under way to identify lower-cost carbon fibers that can meet the required high pressure and safety specifications for these tanks. However, lower-cost carbon fibers must still be capable of meeting tank thickness constraints in order to satisfy volumetric capacity targets. Thus, lowering costs without compromising weight and volume is a key challenge. Advances in compression technologies are also required to improve efficiencies and reduce the cost of producing high-pressure gas. For additional details, see Gaseous Hydrogen Storage [pdf, 1.2mb] at Hydrogen for Power Applications – Task 2.O Storage of Hydrogen in Solid, Liquid and Gaseous Forms" (pages 43-46).