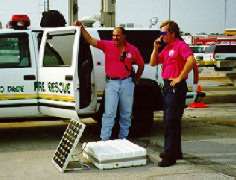 Photovoltaic systems can be used to power a wide variety of equipment in disasters. A growing number of emergency management and disaster relief organizations use PV equipment in their daily operations.
In the Publications section, you will find the History of Applying Photovoltaics to Disaster Relief report, which describes many real-life applications of PV systems that have been used in disaster response. The report User Evaluation of Prototype PV Equipment for Disasters describes a project in which Sandia National Laboratories provided funding for six PV-powered disaster demonstration projects for various disaster relief organizations.
Presently, the Florida Energy Office of the Department of Community Affairs has provided funding for FSEC to purchase several new PV systems, which are used for training and application demonstration projects in Florida. The following equipment will be used for this education program.
| | |
| --- | --- |
| Item | Manufacturer |
| Lantern | Kyocera Solar |
| Radio | Freeplay |
| Radio Flashlight | Feldstein |
| SolarVerter Case | Patrick Technologies |
| Portable Energy System | SunWise |
| Portable Generator | SunWise |
| Portable Power Tote | Applied Power |
| Man-Pac | United Solar Systems |
| Radio Weather Station | PacComm |