Winter 2016
Quick Links
- FSEC
- Buildings Research
- Continuing Education
- Building America Partnership
for Improved Residential Construction
- EnergyGauge Software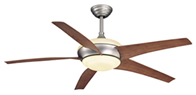 The Gossamer Wind® series of ceiling fans offers 40% higher airflow with no additional energy use and features the prestigious EPA's Energy Star designation for energy-efficiency.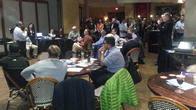 FSEC's Dr. Swami presented EnergyGauge software at the IBPSA-USA Winter Meeting.
DOE's Maria Vargas, FSEC's Rob Vieira and key stakeholders toured a City of Orlando facility showcasing their efficiency achievements.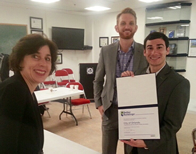 Maria Vargas, Director of DOE's Better Buildings Challenge Program presents Better Buildings award to Chris Castro and Ian LaHiff for the City of Orlando.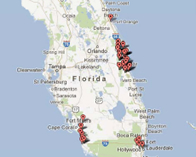 Geographic distributionn of the
PDR sites in Florida.

Award-Winning Manufacturer of Super-Efficient Ceiling Fans Licenses UCF-Developed Fan Blade Design
Versa Drives, an India-based manufacturer of electric motors, drives and appliances, has licensed an innovative fan blade design developed at the Florida Solar Energy Center (FSEC), a research institute of the UCF. Under the direction of Danny Parker, principal research scientist at FSEC who developed the design concept, the fan blade is based on aviation propeller innovations. It is an aerodynamic design that produces maximum performance and energy-efficiency.
More
FSEC chosen to present EnergyGauge software features to IBPSA USA Conference
Dr. Swami, FSEC's developer of EnergyGauge Summit software, was invited to present the software's automatic benchmark building creation and its other capabilities at the January meeting of building simulation professionals.
More
City of Orlando and Key Stakeholders Fight for a More Energy-Efficient Future
FSEC's Rob Vieira, UCF's Sustainability director David Norvell, and other regional stakeholders were invited to help brainstorm with the City of Orlando on their green initiatives, particularly those regarding benchmarking and auditing of privately-owned, large commercial buildings in the city. A separate meeting was held with city officials and Maria Vargas of the DOE's Better Buildings program.
Orlando Green Works | Orlando Building Energy and Water Efficiency Strategy | USDOE Better Buildings

Phased Retrofits in Existing Homes in Florida Phase I: Shallow and Deep Retrofits
The U.S. Department of Energy's Building America research team, Building America Partnership for Improved Residential Construction, is collaborating with Florida Power & Light (FPL) to conduct a phased residential energy-efficiency retrofit program. This research seeks to establish impacts on annual energy and peak energy reductions from the technologies applied at two levels of retrofit, shallow and deep, with savings levels that approach the Building America program goal of reducing whole-house energy use by 40%.
Publication
Phased Retrofits in Existing Homes in Florida Phase II: Shallow Plus Retrofits
Phase II of the Phased Deep Retrofit (PDR) project includes single retrofit measures applied to shallow retrofitted homes that could be used to refine the deep retrofit package. This process is also known as Shallow Plus retrofitting. Phase II involves the installation of seven energy-efficient retrofit measures among a subsample of 41 of the larger studys 53 existing all-electric homes. This report summarizes end-use energy savings, economic evaluation results, and supplementary findings from the individual measures.
Publication

2016 Continuing Education Dates Now Online!
FSEC offers a wide range of courses covering renewable energy and building energy technology topics. Most include both classroom instruction and hands-on field experience. Some courses offer CEU credits and are approved for Florida professional license renewals.
Courses