Winter 2009

Quick Links
- FSEC
- Buildings Research
- Building Science Training
Center
- Building America Industrialized
Housing Partnership
- EnergyGauge Software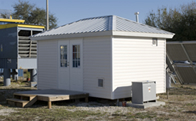 FSEC's Hot Water Systems Laboratory
Photo: Nick Waters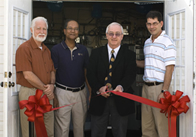 Mr. Robert Hassett, U.S. DOE's Building America Solar Heating and Cooling
Technology Manager, cuts the ribbon at
the opening celebration of FSEC's new
HWS Lab. Photo: Nick Waters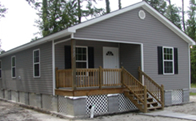 A typical Habitat for Humanity home
in Slidell, Louisiana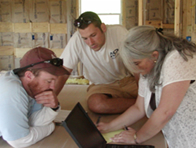 Brandon Strunk (site supervisor) and
Josh Bontrager (construction manager)
at East St. Tammany Habitat (Slidell, LA) review analysis with BAIHP researcher
Janet McIlvaine.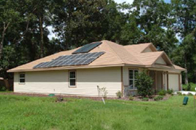 One of the two Near Zero Energy Homes by Schackow Realty and Development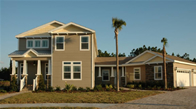 Palm Harbor Homes "Bellair" with
addition permanently located in
Auburndale, FL.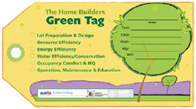 The Homebuilders Green tag
helps highlight the categories that
each product or strategy was
applicable to in accordance with
NAHB's green guidelines.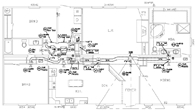 Duct system layout for the Southern
Energy interior soffit duct system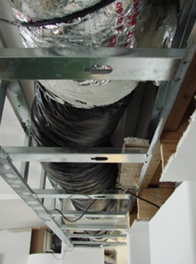 Manufacturing Housing Lab's soffit duct (supply side)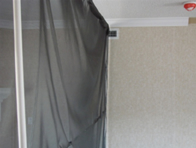 In order to observe the air flow,
a regular fiberglass insect window screen
was attached to a temporary PVC frame
and placed in the airstream of the
living room supply.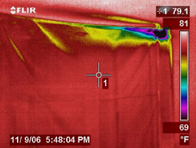 An infrared imaging camera was used
to detect the temperature differences
on the insect screen therefore visualizing
the air flow pattern.

FSEC's New Hot Water Systems Lab
FSEC celebrated the opening of its new Hot Water Systems Laboratory in Cocoa. The lab is side-by-side testing solar, tankless and conventional domestic water heating systems.
BAIHP HWS Lab Website | Press Release
2008 Florida Energy Code Software Released
The latest EnergyGauge releases will calculate Florida's new energy code compliance by the performance methodology. Consistent with Governor Crist's Executive Order #07-127, Florida's 2008 energy code aims to reduce energy use by 15%. Florida's new building code is effective March 1, 2009.
EnergyGauge Website
Building America work with Habitat for Humanity in the Gulf Coast Region
Four Habitat for Humanity affiliates are working with Building America researchers to produce high-performance demonstration homes in Alabama (Mobile) and Louisiana (Baton Rouge, Slidell, and New Orleans.)
BAIHP Gulf Coast Website

AC System Equipment Specification, Installation and Operational Options for Improved Indoor Humidity Control
This paper presents a summary of low-cost or no-cost equipment selection and operation options for conventional residential air-conditioning equipment than can result in lower indoor humidity levels.
Publication
An Overview of Building America Industrialized Housing Partnership Activities in Hot-Humid Climates
BAIHP conducts systems research on hot-humid climate efforts for new housing. Technical assistance was provided on the design, construction and evaluation of four near zero energy homes and over 300 highly energy-efficient production homes.
Publication
Assessment of the Effectiveness and Energy Efficiency of Humidity Control Approaches in Vacant Florida Homes
Have you ever had to leave your home vacant for long periods of time and wondered what the best method would be to control humidity and minimize energy use? This paper discusses research that looked at different control methods used in different types of homes and highlights advantages and disadvantages of each.
Publication
Case Study of an Innovative HVAC System with Integral Dehumidifier
This paper describes the development and testing of a room air dehumidifier integrated within a typical HVAC system. Although the technology is not new, the integration of a dehumidification system within a standard air conditioner proved to be a unique and an innovative solution for building moisture control.
Publication
Energy Impacts of Various Residential Mechanical Ventilation Strategies
This paper presents simulation results for eight ventilation strategies compared to no ventilation, and it presents the changes in energy use for each.
Publication
Energy Performance Aspects of A Florida Green Roof, Part 2
This report provides second-summer green roof energy performance results for a 2-story central Florida university building addition that show significant performance improvements for the green roof compared with the first summer results.
Publication
Green and High Performance Factory Crafted Housing
This paper will summarize the design features and the green and energy-efficient certification processes conducted for the 2008 International Builders Show (IBS) Palm Harbor show homes.
Publication
Research Results from A Few Alternate Methods of Interior Duct Systems in Factory Built Housing Located in the Hot Humid Climate
The initial results of this work show approximately a 10% to 20% heating/cooling savings when compared to conventional attic duct work construction techniques and nearly 7% savings when compared to a conventional in-floor system.
Publication

Four Energy Code & Analysis Courses Offered:
Commercial Energy Code and Green Building Modeling Using EnergyGauge Summit
Students will learn how to input data into software and generate output reports to determine energy impacts. Come see how easy it is to generate an ASHRAE 90.1 rating, tax deduction and LEED 2.2 credits and reports. Offered February 26, 2009.
Course Description
EnergyGauge Commercial Rater Training
This one-day course is designed to learn the methodology of commercial energy ratings in order to accurately assess commercial buildings. Offered February 27, 2009.
Course Description
From Blueprints to Residential Energy Code Compliance
Step-by-step guidance as to how to complete a Florida energy code compliance form from plans. Offered March 16 and September 14, 2009.
Course Description
EnergyGauge Pro Hands-On Training
Learn how to enter data and obtain Florida Energy Code, Energy Rating and system sizing results with the EnergyGauge USA FlaRes software program. Offered March 17 and September 15, 2009.
Course Description
Three Green Home Building Courses Offered:
Building Energy-Efficient Green Homes
Learn how to design, construct, equip and market energy-efficient Florida homes. Offered April 22 and August 19, 2009.
Course Description

Florida Green Home Designation Certification Course
Learn how the certification process for Florida's green home designation standard works. Offered April 21 & August 18, 2009.
Course Description
LEED® for Homes for Field Agents
This course is designed to take current Florida green home certifying agents, Florida energy raters and LEED professionals through the LEED for Homes program in order that they may be eligible to be field raters for Florida homes. Offered April 23 and August 20, 2009.
Course Description