Winter 2004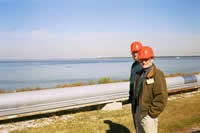 Photo by Robin Vieira
Jim Valade (left), U.S. Fish and Wildlife Service, and David Laist, Marine Mammal Commission, watch several manatees from the strip of land that separates intake and outtake at Florida Power and Light's Cape Canaveral Plant. Biologists estimate hundreds spend cold winter nights by the warm water discharge.

Report provides history, public perspectives, and recommendations regarding Florida energy policies.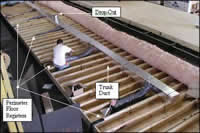 Photo by Janet McIlvaine
Duct assembly stations become a focus of improvement and quality control when factories strive to meet to qualify for Energy Star. Photo shows perimeter floor duct system with flex duct runs from duct board trunk to registers. Note this floor assembly will be flipped over after insulation is completed.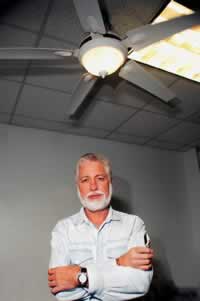 Photo by Steven Spencer
FSEC Researcher of the Year, Danny Parker stands under the
Gossamer Wind
fan design he patented.

Florida Solar Energy Center Comes to the Aid of Florida's Manatees

FSEC received a contract from the U.S. Marine Mammal Commission to simulate thermal conditions in semi-enclosed refuges to protect Florida manatee populations from cold stress.
Story
|
More Manatee Info
Florida's Energy Future Report Completed
FSEC and CPI held stakeholder meetings, public forums, conducted surveys and convened a panel of experts from other states in order to derive energy recommendations for Florida. The report provides general and end-use specific energy recommendations for a prosperous economy, healthy environment and secure future for the sunshine state.
Report
Beta Version of EnergyGauge Com2004 Available
EnergyGauge Com uses ASHRAE 90.1 -2001 as the basis for comparing commercial buildings, ideal for USGBC LEED certification and upcoming energy codes. Testing is ongoing and this version is for trial and feedback, not commercial use.
Download Site

Creating a Green and Profitable Work Environment
An informative guide to cleaning and maintenance practices which provide efficient, productive and healthy operation of commercial buildings in Florida.
Publication

Alleviating Moisture Problems in Hot, Humid Climate Housing
The Southeastern U.S. experiences hot, humid conditions throughout the summer months and in Florida, these conditions can prevail throughout most of the year. This paper provides a brief summary of the state of the art and research needs for three areas - Manufactured (mobile) Homes, Unvented Attics and Slab-on-grade floors.
Publication
Achieving Airtight Ducts in Manufactured Housing
Data and findings presented here were gathered between 1996 and 2003 during 39 factory visits at 24 factories of six HUD Code home manufacturers interested in improving the energy efficiency their homes. Factory observations typically showed that building a tighter duct system was the most cost effective way to improve the product's energy efficiency.
Publication
Complying with Florida's Green Land Development Standard: Case Studies and Lessons Learned
The Florida Green Building Coalition, Inc. (FGBC), developed a standard for green land development. This paper uses two applicant case studies to illustrate the elements and flexibility of the standard. Discussion is included on how a land development standard can be used to augment vertical construction standards (LEED
TM
and local standards) and can serve as a tool for local communities and government entities to reward sustainable land development.
Publication
|
FGBC Green Development Standard
Failure Proof Series Overflows with Students
FSEC's initial offerings of courses for school facility managers fill with students trying to learn how to improve the performance of schools.
Description
|
Course Schedule
FSEC Researcher Teaching Course on "Humanity's Environmental Future"
The course, started by FSEC's Dr. Ross McCluney, examines the wide variety of difficult energy, environmental and socio-economic problems facing humanity as it struggles toward a sustainable future. McCluney wrote a 427-page textbook specifically for the course, which is offered through UCF's Department of Philosophy.
Description

Danny Parker selected as Researcher of the Year
Principal Building Research Scientist Danny Parker was selected as FSEC researcher of the year. Danny's many contributions to buildings research have included cool roof technology research, energy-efficient school design, windows research, utility residential research and efficient fan inventions.
Story