Summer 2014
Quick Links
- FSEC
- Buildings Research
- Continuing Education
- Building America Partnership
for Improved Residential Construction
- EnergyGauge Software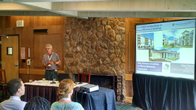 FSEC researcher, Dave Chasar, presenting
at the 2014 ACEEE Summer Study on
Energy Efficiency in Buildings.
Photo Credit: Chuck Withers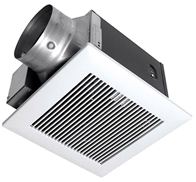 One study met ASHRAE 62.2 levels
of ventilation with a high quality,
quiet exhaust fan rated for continuous runtime, with an insulated exhaust duct
to limit condensation.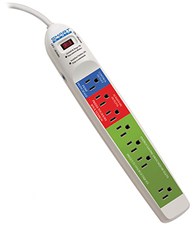 The Smart Strip SCG3, which has 7 outlets, was used in the retrofit study.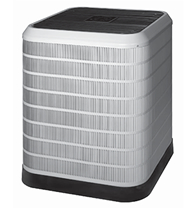 Can oversizing a variable capacity heat pump air conditioning system save energy?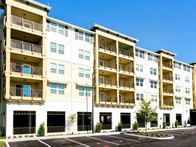 One affordable multifamily developer
is exceeding minimum energy code
by 40 percent.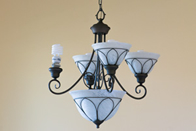 Shallow retrofit measures included
changing to CFL or LED lighting.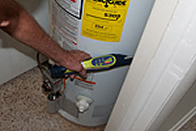 As a mandatory requirement, raters must comply with the new RESNET Combustion Appliance Safety Testing protocols.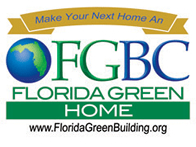 Complete the Florida Green Home Certification training and become an accredited FGBC Certifying Agent.

Home Builders: Are you interested in delivering homes to your customers with ultra-low energy bills, enhanced comfort, and sustained value? How about selling more homes, increasing market share amongst competitors, and increasing profits? FSEC's Building America program is seeking new residential builder partners currently constructing or striving to construct high performance homes. More information can be found at
www.ba-pirc.org/announcements

FSEC Researchers Presented at 2014 ACEEE Summer Study on Energy Efficiency in Buildings
Check out their research publications below:
Measured Cooling Season Results Relating the Impact of Mechanical Ventilation on Energy, Comfort, and Indoor Air Quality in Humid Climates
What are the implications of mechanically introducing humid outside air into residential buildings, compared to the indoor air quality benefits? Take a look at the results of a study of 10 homes in Gainesville, FL that includes impact on energy use, comfort, and indoor air quality.
Publication
Vent Right and Then? Mechanical Ventilation, Dehumidification and Energy Use in Humid Climates
In another study of mechanical ventilation in homes, two lab homes, constructed to represent characteristics of typical existing Florida homes, were monitored. They were configured with tight and leaky building envelopes, and with and without mechanical ventilation. Simulation results of high performance new homes with mechanical ventilation, and typical older homes with and without air tightening and mechanical ventilation, were also presented.
Publication
Where Should We Focus Efforts to Improve Building Energy Code Enforcement Rates? Results From a Research Study in Florida
Most states have adopted commercial and residential building energy codes and many are planning adoption of more conservative codes over time. Decreased energy use will help improve conservation, but how well are energy codes enforced? This paper describes the research method, audit procedure and results, which include a list of the top occurring areas of non-compliance and suggestions to improve compliance enforcement.
Publication
Measured Retrofit Savings from Efficient Lighting and Smart Power Strips
How much energy can you save by retrofitting your lighting and using advanced power strips in your home? Find out in the research publication below, in which 56 all-electric Florida homes were evaluated.
Publication
Making the Case for Oversizing Variable-Capacity Heat Pumps
Oversizing of fixed-capacity (FC) heat pumps and air conditioning systems is understood to reduce space conditioning energy efficiency, and is not permitted or at least severely restricted by various standards, state codes, and programs. FSEC research found, however, that oversizing variable capacity (VC) heat pump systems substantially decreases energy consumption. This paper support right-sizing FC systems, but oversizing VC systems.
Publication
Incentives for Efficient Multifamily Construction Through Utility Allowance Calculations in Florida
Florida recently implemented a new method for determining utility allowances for low income housing tax credit properties that provide new incentives for energy efficient construction. These incentives have driven one affordable multifamily developer to exceed minimum energy code by 40 percent in new developments since 2011 encompassing over 1,400 residential units in 15 properties. Tenants benefit from enhanced humidity control, comfort and indoor air quality. This paper shows how energy efficiency is making its way into a building sector that has traditionally been hard to reach.
Publication
Measured Results of Phased Shallow and Deep Retrofits in Existing Homes
In collaboration with Florida Power & Light (FPL), FSEC is pursuing a phased residential energy-efficiency retrofit program in Florida. This research is to establish annual energy and peak energy reductions from the technologies of two levels of retrofit – shallow and deep, with savings levels at the high end expected to reduce whole-house energy use by 40%. Energy end-use savings and economic evaluation results from the phased measure packages and single measures are summarized along with lessons learned from a sample of 60 existing, all-electric homes.
Publication

Combustion Safety Training
As a mandatory requirement to maintain certification, RESNET HERS Raters (a Class 1 in Florida) must comply with the new RESNET Combustion Appliance Safety Testing protocols outlined in Chapter 8 of RESNET Standards. Combustion Safety Testing is a requirement for homes with gas appliances participating in the EnergyStar program. Raters certified prior to 12/31/13 have until 12/31/14 to pass the Combustion module.
Register
Florida Green Home Certification Training
A two-day training offering green building techniques appropriate for Florida homes. Individuals who complete this course and associated exams may become an accredited Certifying Agent of the Florida Green Building Coalition (FGBC) provided they meet the eligibility requirements. Course offered Sept 29-30, 2014.
Register