WANTED: Northeast Florida Homes with Unvented Attics with Spray Foam Insulation
FSEC is conducting a study with the American Chemistry Council to investigate the performance of unvented attics insulated with spray foam. We are seeking new, occupied homes in which attic and indoor conditions can be monitored from December 2017 – July 2018. A $200 homeowner stipend is provided. Eligible homes need to meet the following criteria:
Built and occupied in 2015 or later
Located in Northcentral to Northeast Florida (Marion County and north and Leon County and east)
Tight ducts (Leakage to out less than 0.03 cfm25/sqft and Total Leakage less than 0.10 cfm25/sqft)
Light colored roofs (solar absorptance less than or equal to 0.6)
If you know of any homes or communities that fit the above criteria, or for more information, please contact: Eric Martin martin@fsec.ucf.edu or 321-638-1450.

Your Opinion Is BIG!
UCF is exploring increasing sustainability education offerings. Please help us out by taking this anonymous survey. The survey is estimated to take just 4 minutes! Thanks! Survey
FSEC to Research Three Aspects of the Florida Building Code
The Florida Building Commission selected FSEC for three new research projects. FSEC will compare the 6th edition Florida Building Code, Energy Conservation to the 2018 ICC Energy Conservation code. In another study, FSEC will conduct air tightness tests of recently constructed homes to see how effective the new code change for air tightness testing has been. In a third study, FSEC will evaluate the impact of location on the performance of residential dehumidifiers.
New Florida Energy Conservation Code to Take Effect Dec. 31, 2017
The Florida Building Code 6th edition will go in effect Dec. 31. All new buildings permitted after that date will be required to meet the new codes. Energy codes saw minor changes in strictness but offer more options. The Energy Rating Index method was recently introduced as a new option for residential buildings. Commercial buildings have options of ASHRAE 2013 or IECC 2015 methods of compliance. Current licensees of EnergyGauge software will receive an email when the software is available. EnergyGauge USA for performance code has been approved by the Florida Building Commission and is available for "test driving."
Florida Building Code, EnergyGauge Software,
Find Blower Door Tester and Energy Raters
Low Cost Solar Electric Panels to Augment High Efficiency Water Heater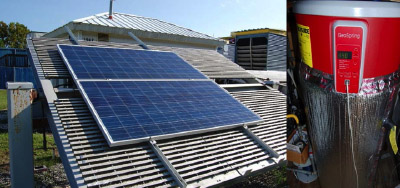 FSEC researchers, Carlos Colon and Danny Parker, along with Tim Merrigan and Jeff Maquire (NREL) published "Measured Performance of a High-Efficiency Solar-Assisted Heat Pump Water Heater". As part of the effort towards zero energy buildings, FSEC, working under contract with the National Renewable Energy Laboratory (NREL), developed a system where a solar power system is added to a heat pump water heater, more than doubling the coefficient of performance of the unit. This photovoltaic augmented, grid-connected system avoids net metering by storing all electric generated energy behind the meter. Paper
Phased Deep Retrofit Project: Real-Time Measurement of Energy End Uses and Retrofit Opportunities
FSEC researchers FSEC's Karen Fenaughty, Danny Parker and Eric Martin published this paper on the latest findings of retrofitting Florida homes to achieve large energy savings.
Retrofit Package
or Measure

Peak Summer Demand
Pre (kW)

Peak Summer Demand Post (kW)

Peak Summer Demand Delta (kW/%)

Shallow Retrofit

3.41

2.74

0.67/20%

Deep Retrofit

4.97

3.01

1.96/39%

Mini-Split Heat Pump

3.12

2.61

0.50/16%

Learning Thermostat

2.40

2.23

0.18/7%

Heat Pump Clothes Dryer

0.18

0.09

0.09/48%

Variable Speed Pool Pump

1.26

0.18

1.08/86%
Course Spotlight
EnergyGauge Rater Training
Become an Energy Rater – learn how to be the one called to help verify compliance with Florida's Energy Code, the Energy Star for Homes program, green home designations or DOE's Zero Energy Ready Home program. Courses offered in September 2017.
Residential Building Air Leakage [Blower Door] Testing
This full-day instructor-led course uses lecture, demonstration and hands-on student participation to train Florida building contractors, code inspectors, and other building professionals how to perform residential building air leakage tests using a blower door in compliance with the 2014 & 2017 Florida Residential Energy Conservation Code
Description and Registration