Autumn 2016
Quick Links
- FSEC
- Buildings Research
- Continuing Education
- Building America Partnership
for Improved Residential Construction
- EnergyGauge Software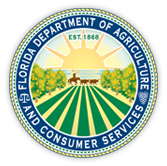 Farm Renewable and Efficiency Demonstration (FRED) provides free energy evaluations to Florida farmers.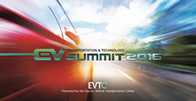 EV Summit presentations focused on planning, economics, technology, mobility, Smart Cities and infrastructure.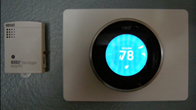 The Nest learning thermostat shows portable logger recording temperature/humidity right by original thermostat & smart replacement.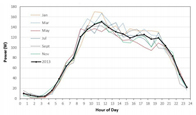 Average baseline clothes dryer daily load shape during 2013 is presented in this graph.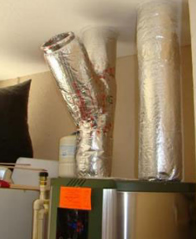 Ducting arrangement allows cold exhaust air to be diverted from the conditioned living environment if comfort became an issue during winter.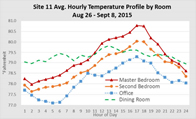 Average hourly temperature profile of four interior locations.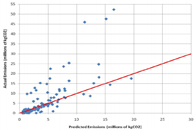 This graph shows metered energy use as a function of statistically-predicted energy use for retail buildings.

Free Energy Evaluations to Florida Farmers
The Florida Department of Agriculture and Consumer Services Office of Energy has announced funding availability for the new program Farm Renewable and Efficiency Demonstration (FRED). FRED provides free energy evaluations to Florida farmers. Farmer's who complete an audit through the FRED program are eligible for reimbursement of up to 80 percent of the cost to implement the recommendations, up to $25,000 from the free energy evaluation. Examples of eligible project for reimbursement include energy efficient lighting and water pumps, fuel efficient tractors and generators, and small scale renewable energy generation such as solar or biomass. Funding is limited and provided on a first-come, first-served basis.
Application
Electric Vehicle Summit Attracts Attendees from Five Countries
FSEC hosted the EV Summit October 17th through the 20th, with presentations on planning, economics, technology, mobility, Smart Cities and infrastructure. Our presenters included Scott Miller (ChargePoint VP), Leslie Eudy (NREL), David Dunn (City of Orlando), Matt Horton (Proterra VP), Steve Polzin (CUTR) and 14 other speakers. We had more than 80 registrations, including attendees from Israel, Georgia (Europe), Columbia, Mexico, California and Hawaii; feedback from the attendees has been very positive.
EV Summit Website | 2015 Summit Presentations

Evaluation of the Space Heating and Cooling Energy Savings of Smart Thermostats in a Hot-Humid Climate using Long-term Data
"Smart" thermostats regulate the home temperature by self-programming using heuristic evaluation of user habits and occupancy. Within the Phased Deep Retrofit Project in Florida, a total of 26 NEST thermostats and two Lyric thermostats were installed in participating homes. Unlike previous evaluations, a full year of sub-metered hourly temperature and heating and cooling system operation data was available prior to the install of the smart thermostat allowing detailed evaluation of temperature-related changes. Overall measured heating and cooling energy savings averaged 9.5%.
Publication
Measured Performance of Heat Pump Clothes Dryers
This report describes measured end-use energy savings and an economic evaluation from evaluating heat pump clothes dryer retrofits in eight homes.
Publication
Measured Performance of Ducted and Space-Coupled Heat Pump Water Heaters in a Cooling Dominated Climate
This report describes results from experiments that ducted the exhaust air from a garage located HPWH to the conditioned living space. Experiments were conducted in a residential laboratory building at FSEC. In addition, data is presented from eight occupied homes.
Publication
Evaluation of Mini-Split Heat Pumps as Supplemental and Full System Retrofits in a Hot Humid Climate
High-efficiency 25.5 SEER, 12 HSPF, 1-ton, supplemental, inverter-driven ductless mini-split heat pumps (MSHP) were installed in the main living area of ten central Florida homes with the goal of reducing space heating and cooling energy by decreasing runtime of the less efficient, existing central system. The installations showed median energy savings of 33% (6.7 kWh/day) for space cooling and 59% (6.5 kWh/day) for heating. A large added consumer benefit is a redundant heating and cooling system to help keep occupants comfortable when the central system fails.
Publication
Metrics for Energy Efficient Buildings: How Do We Measure Efficiency?
Energy management is facilitated by the use of quantitative indicators of energy consumption as a function of energy service needs: "You can't manage what you don't measure." This paper points out the shortcomings of relying on a single metric, both in terms of ranking overall energy performance and in terms of comparing fuels.
Publication

EnergyGauge Rater Training
Become an Energy Rater – learn how to be the one called to help verify compliance with Florida's Energy Code, the Energy Star Homes, green home designations or DOE's Zero Energy Ready Home program. Course offerings in November and December 2016 and April 2017.
Register