Autumn 2008

Quick Links
- FSEC
- Buildings Research
- Building Science Training
Center
- Building America Industrialized
Housing Partnership
- EnergyGauge Software
SEEC provides information, programs, incentives or people with the expertise
needed to implement projects.
Energy End-Use of Generic Types
of Standard Size Dishwashers
Completed Side-by-Side Test Buildings
at Florida Solar Energy Center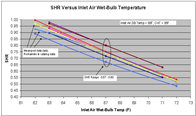 SHR vs Inlet Air Wet-Bulb Temperature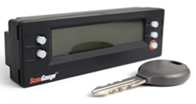 By using a Scan Gauge, consumers can
save gas and get better mileage.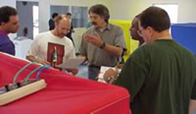 FSEC's Neil Moyer instructs attendees
at the Class 1 Energy Rater Training.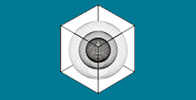 16th Hot Humid Symposium is
December 15-17, 2008 in Dallas, TX.

New Southern Energy Efficiency Center (SEEC) Website
SEEC is a pilot, high-performance buildings technology application center serving the southern United States.
SEEC Website
Designing and Maintaining The High Performance Green Building Course Series
Ensure the green building you design and build, achieves the promise of high performance. Courses offered in 2009.
Course Description

Very Low Energy Homes in the United States: Perspectives on Performance from Measured Data
This report presents measured annual performance data from a dozen recent-vintage very low energy homes in North America.
Publication
Furnace Blower Electricity: National and Regional Savings Potential
This paper compares the potential regional and national energy savings of two-stage brushless permanent magnet blower motors to single-stage permanent split capacitor blower motors.
Publication
How Energy Efficient are Modern Dishwashers?
This paper presents measurements of three recent vintage dishwashers of very different efficiencies.
Publication
NightCool: A Nocturnal Radiation Cooling Concept
An experimental evaluation has been conducted on a night sky cooling system designed to substantially reduce space cooling needs in homes in North American climates.
Publication
AC System Equipment Specification, Installation and Operational Issues That Can Enhance Indoor Humidity Control
This report summarizes the research on equipment selection and operation issues with conventional air conditioning equipment.
Publication

Hoak Provides Techniques for Improving Gas Mileage
FSEC's David Hoak provided advice to Fox 35 for a two segment story on techniques for improving gas mileage.
Video Story

From Blueprints to Residential Energy Code Compliance
Step-by-step guidance as to how to complete a Florida energy code compliance form from plans. Offered December 1, 2008.
Course Description
EnergyGauge® FlaRes Pro Hands-On Training
Maximum use with minimum effort from Florida's Code and Rating Software. For new or experienced users, we'll walk you through EnergyGauge, energy code compliance, and zero energy home analysis. Offered December 2, 2008.
Course Description
EnergyGauge Class 3 Rater Training
Become a home energy rater. Class 3 Raters can rate new buildings only. Offered December 3, 2008.
Course Description
EnergyGauge Class 2 Rater Training
Become a home energy rater. Class 2 Raters can rate new or existing buildings using site audit data. Class 2 Raters must be certified for Class 3. Offered December 4 and 5, 2008. Seven Class 1 and 2 offerings in 2009 – classes sell out fast!
Course Description
Hot Humid Symposium
The sixteenth Symposium on Improving Building Systems in Hot Humid Climates will be held on December 15-17, 2008 in Dallas, Texas.
Symposium Description