Autumn 2007

Quick Links
- FSEC
- Buildings Research
- Building Science Training
Center
- Building America Industrialized
Housing Partnership
- EnergyGauge Software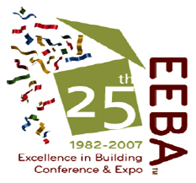 FSEC Wins Legacy Award
at the EEBA Conference
Window Shading Expert,
Dr. Ross McCluney, Retires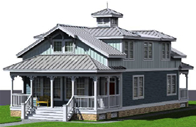 2008 IBS Show Home to be
Built by Palm Harbor Homes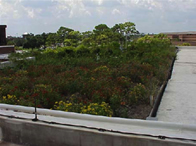 UCF's First Green Roof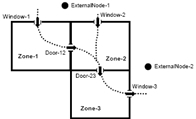 Plan view of a simple airflow network
shows a possible airflow pattern.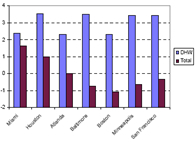 Percent changes of domestic hot water
heater and total energy use are shown with
and without HDWS losses in seven locations.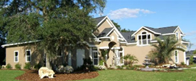 A Typical G.W. Robinson Home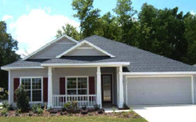 A Typical Tommy Williams Home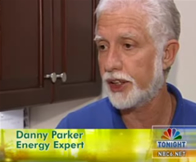 Danny Parker is featured in
television series "Going Green."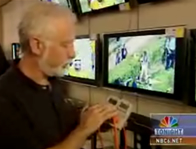 Danny Parker demonstrates how
plasma type TV sets can use twice
as much electricity as LCD TVs.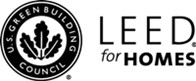 Upcoming Courses Offered in Cocoa on January 17 and April 9, 2008

EnergyGauge Summit Premier 3.13 - Quick Modeling for LEED® Rating System
This state-of-the-art software provides the opportunity to substantially reduce the time required to complete LEED energy modeling for commercial construction.
News Release
FSEC Receives Southern Energy Efficiency Center Contract
US Department of Energy selected FSEC as the home of their new building application center that will provide building energy efficiency outreach to 12 southern states.
News Release
New State Beyond-Code Activities
Florida Department of Community Affairs asks FSEC to lead Energy Efficiency, Green Building Ordinance, Appliance Standard, Public Outreach efforts.
Florida Green Building Workshops
FSEC Wins Legacy Award at the EEBA Conference
In recognition of the organization's 25th Anniversary, the Energy & Environmental Building Association (EEBA) awarded FSEC one of 25 Legacy Awards at their annual Excellence in Building Conference, October 10, 2007 in St. Paul, MN. The US Department of Energy's Building America program was a recipient as well. In addition Neil Moyer of FSEC was recognized as a co-developer of the MAD-AIR program.
Press Release
Window Shading Expert Retires
William Ross McCluney announced his retirement after 31 years at FSEC. He's been a major contributor to calculations for shading windows, labeling windows for SHGC, daylighting resources, solar distillation and sundials. Ross's post retirement plan includes environmental advocacy and writing in Tennessee.
Ross McCluney's Bio
Using Show Homes to Persuade Commissioning Relevancy and High Performance Strategies in Factory Crafted Homes
New presentation provides overview of recent demonstration homes.
Presentation

UCF Recommissioning Project Final Report
Second summer of UCF green roof monitoring shows greater temperature and heat flux differences between the more established green roof and somewhat darker conventional roof. See pages 38-51 of the UCF Recommissioning Project Final Report for details.
Publication
Airflow Network Modeling in EnergyPlus
The paper describes model structure, inputs and validation in EnergyPlus. The model is used to simulate multizone wind-driven and forced airflows, and the impacts of forced air distribution systems, including supply and return air leaks.
Publication
A Simplified Hot Water Distribution System Model
A simplified HWDS model for a single pipe was developed to simulate energy losses by including thermal mass of both fluid and pipe. The model is used in the DOE-2 program as an input function and will be easily incorporated in other building simulation programs.
Publication
Commissioning High Performance Residences in Hot, Humid Climates
This paper summarizes the experiences to date with two production builders, G.W. Robinson and Tommy Williams Homes, who have cost shared with the Building America program to deliver these outstanding results.
Publication

Building America Partner Producing Energy and Saving Clients "Green" Even in a Sluggish Housing Market
Schroeders Homes was featured on TV channel WWSB, Sarasota on November 16 at 5:30 pm Top Stories, for their energy efficient and electricity producing homes that produce "green" for both homeowner and builder, even in a sluggish market. FSEC's Stephanie Thomas-Rees and Subrato Chandra participated by pointing out efficient and green features of Schroeders Homes.
Television Coverage | Schroeders Homes
Reducing Energy Use of Appliances
This video segment describes how home appliances (refrigerators and dryers) can be maintained to lower energy use and improve household safety, and how dishwasher and cooking tasks can be accomplished more efficiently.
NBC 6 Video
Reducing Energy Use in the Home Office
Video describes how energy use in the home office, while growing, can be controlled. This includes making best equipment choices (such as laptops versus desktops) as well as using power strips and smart controllers to turn off computer peripherals when no one is around.
NBC 6 Video
Energy Efficient Television Choice and Home Theater
Since there are often more televisions that people in modern households and televisions are on for many hours a day, choosing the most energy efficient television has never been more important. This is particularly true of flat screen televisions where plasma type sets can use twice as much electricity as LCD TVs.
NBC 6 Video

Florida Green Home Designation Certification Course
Learn how the certification process for Florida's green home designation standard works. Offered Dec. 4, 2007 and May 1, and Aug. 6, 2008.
Course Description
LEED® for Homes for Field Agents
This course is designed to take current Florida green home certifying agents, Florida energy raters and LEED® professionals through the LEED® for Homes pilot program in order that they may be eligible to be field raters for Florida homes. Offered January 17 and April 9, 2008.
Course Description