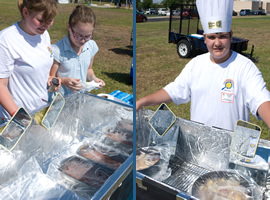 The Solar Energy Cook-off is a solar cooker competition for students in grades 4 - 12. Students working in teams of two to six students, design and build solar cookers that are demonstrated at the EnergyWhiz in early May, at the Florida Solar Energy Center (FSEC) in Cocoa.
At the Solar Energy Cook-off, teams demonstrate the performance of their solar cookers by creating an original dish of food for the competition. Three awards are given in each division for the Best Cooker Design and Top Solar Chefs. Each school may send up to two teams.

Why Get Involved?
Solar cooking is the simplest, safest, most convenient way to cook food without consuming fuels or heating up the kitchen. For millions of people around the world who cook over fires fueled by wood or dung, solar cooking is more than a choice—it is a blessing. For those who lack access to safe drinking water, solar water pasteurization using a solar cooker is a life-saving skill.
The Solar Energy Cook-off challenges students to use scientific know-how, creative thinking, teamwork and experimentation to design and build solar cookers. A design and cooking event, it is an excellent opportunity to combine the teaching of many scientific and social principles in an atmosphere of fun and excitement.
Archive
Recipe books can be viewed and printed using the links below.

For More Information
FSEC serves as the school contact and provides technical assistance for this program. For more information, contact Penny Hall at 321-638-1018 or click here.

Resources
View Solar Energy Cook-Off rules.
Solar cooking basics are available online at Solar Cooker International and solar cooker examples are available also.
Solar Matters curriculum units including solar cooker activities are available on the FSEC web site.