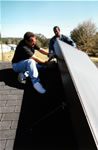 Perhaps the most widely used green energy technology, solar hot water can provide year-round hot water for your home, pool, or commercial building. Solar hot water is perhaps one of the most cost-effective solar technology on the market. With federal tax incentives and a base of qualified installers it's easy to get into this technology.
Testing and certifying solar hot water systems and collectors was one of the founding tasks of the Florida Solar Energy Center (FSEC). As a result, we have an extremely large body of knowledge about solar hot water. Take a look at the resources below to help you with your project.



For Homes
Taking advantage of solar energy is one way that consumers can save considerable amounts of energy. Solar energy systems are most commonly used to provide hot water for residential uses.

For Pools
If you live in Florida, a pool is the ultimate accessory for your home but no one likes to swim in icy water. Solar can heat the water in your pool to a nice temperature. Take a look at this section to see how it's done.

For Commercial Buildings
Solar water and pool heating systems are also quite often used for commercial and industrial applications. Commercial solar water heating systems can range in size from conventional sized systems that heat water for offices to systems designed for large industrial applications. Click to here to learn more.
Solar Hot Water Q&A
When people first look into using solar hot water, they have so many questions. This Q&A attempts to answer some of the most common questions that consumers have about buying and using solar hot water.

Links
For over 30 years, FSEC has been researching and working with solar hot water, but we still don't know everything. Take a look at some of these links for more information.